- Recently there were strong tremors again, did you feel all right?
- Yes, it has not stopped shaking, we have felt it almost every day. We are well and prepared. The whole team is oriented to have ready a bag with the necessary things to leave the clinic in case of emergencies. Sometimes we are more scared than others.
From the other side of the WhatsApp, Dr. Yordys Lázaro Mederos Batista transmits security and the satisfaction of those who know they are in the right, necessary place.
This 29-year-old young man is a specialist in General Comprehensive Medicine and has a diploma in intensive care and adult emergency. Today he has been in Turkey for 12 days.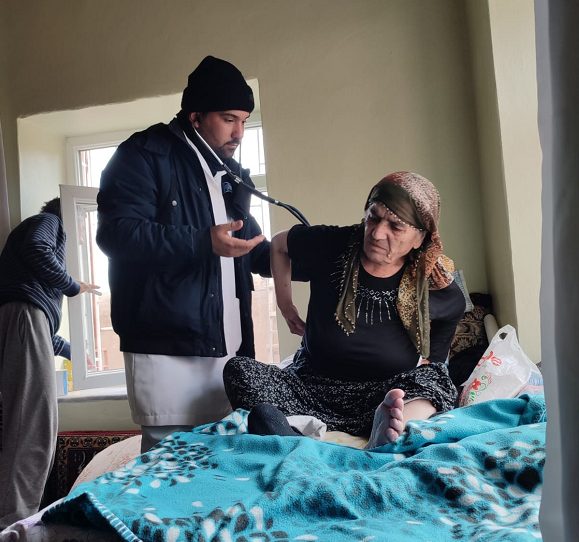 Cuban doctors provide health care at an old people's home in Elbistan. Photo: Courtesy of Yordys Lázaro Mederos Batista.
More than 10 700 kilometers separate his municipality Batabanó, in Mayabeque Province, from the Turkish town of Büyükyapalak in Elbistan municipality, Kahramanmaraş province.
Yordys is one of the 32 Cuban health collaborators providing aid in that nation as part of the Henry Reeve International Contingent of Doctors Specialized in Disaster Situations and Serious Epidemics, following the devastating earthquakes of last February 6.

In Büyükyapalak, he coordinates the group of eight health professionals who, together with a translator, provide medical assistance to the families there. The municipality of Elbistan was one of the epicenters of the tragedy, which left more than 42,000 dead in Turkey alone and more than 5,000 in Syria.
"We are three doctors, three nurses, an epidemiologist, a psychologist and a translator," she writes from the other side of the world, regardless of the time difference, even though it is early morning for them.
This is the first time Yordys has gone out with the Henry Reeve Contingent to help. "I always wanted to be in the brigade," says the young man, who never imagined that the first of the missions would be marked by a disaster of such magnitude.
The shock of arriving in one of the disaster areas was followed by another that they have been sorting through over the days. He attaches a screenshot, where his phone shows several degrees below zero, and talks about the cold. For a Cuban, used to the tropics, sustained low temperatures are a challenge, I think.
"The cold attacked us. We were prepared, but when we got to this reality, all covered in snow... white, it was shocking. I check the temperature and see that it was -10 degrees... It was a bit of an unsettling feeling; the socks were not enough, nor were the coats," he says.
"We ran to the transport to cover our feet with our scarves and get some heat, but they immediately got us socks and what we needed and we continued on to here," he recalls.
Yordys speaks of the sadness felt. "They are very affected, psychologically, above all".
The work at the clinic is quite a lot and daily, he says. "People get used to the fact that we are here because of them and for them.
Look, this is in an old people's home here. A son asked us to visit his parents because he felt they were sick.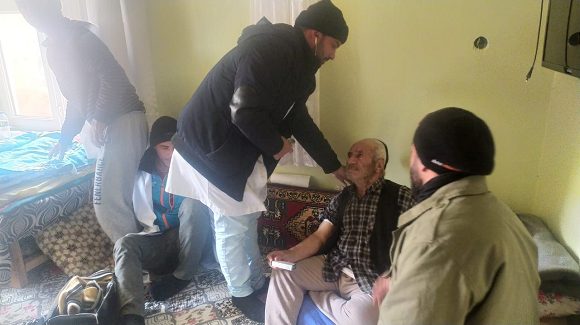 Photo: Yordys Lázaro Mederos Batista.
A 70-year-old woman and a 90-year-old man are the protagonists of the snapshots. Next to them, the Cuban doctors.

- It turns out they both had pneumonia, she also had heart failure. I put them on treatment, and we will reevaluate them in the next few days.
According to the specialist, respiratory diseases are among the most frequent conditions - those that worsen with the winter - as well as chronic uncompensated diseases.
Among the memories of these days, Yordys can list several, but he chooses the one of the 12-year-old boy they received at the clinic already at night, dehydrated, with dizziness and vomiting.
A child is the whole world. And nothing is in its place until everything is done to keep them safe.
-Thank goodness the snow is melting.
-Is it fluffy?
- When you step on it, it feels nice, but cold. More like crunchy, crunchy, crunchy.
-What does the family tell you?
-To take good care of myself. Ah, we can't forget the tea.
-Do they miss coffee?
-Yes, but tea is great. Here in the brigade, there is no lack of it to warm up. We say it's part of our body now.
-What is it?
-It is Cy (chai) at all times. Black tea. Right now, almost sleep-deprived, we'll go for tea.
-How long will they be?
-It is not yet determined.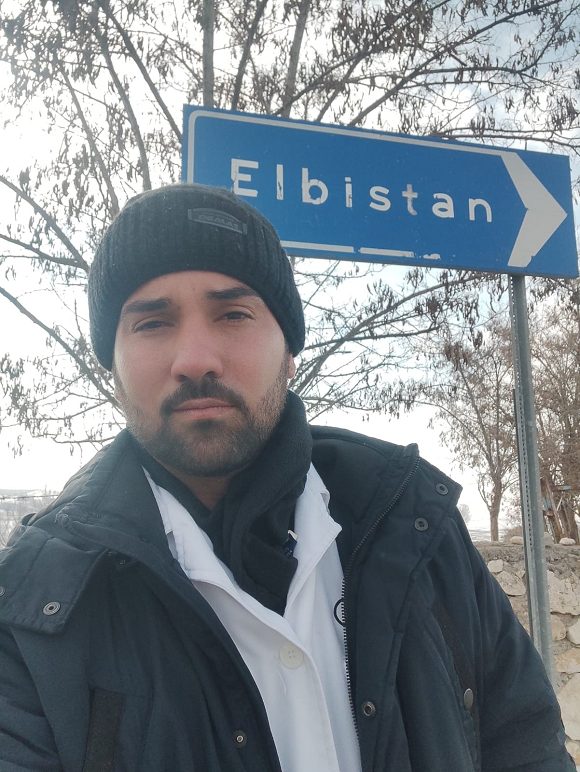 The 29-year-old is a specialist in General Comprehensive Medicine and has a diploma in adult intensive care and emergency medicine. Today he has been in Turkey for 12 days. Photo: Yordys Lázaro Mederos Batista.
He then speaks of another family that he is finding with his colleagues. The one that is created with gratitude and affection.
"They call us 'cuban', 'doctor', they pass by in the cars and whistle at us and greet us with their hand on their chest as a sign of gratitude."
"People invite us into their homes. You take off your shoes to come in and without fully understanding each other in terms of language, we communicate. We convey confidence, security and thanks to the translators on the phone we can interact. In addition to sign language, Cubans have plenty of empathy," says Yordys, certain that the most universal of languages is the language of love.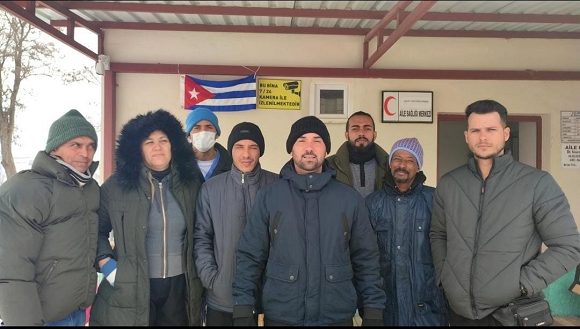 Members of the Henry Reeve Contingent in the Turkish village of Büyükyapalak in the Elbistan municipality, Kahramanmaraş province. From left to right, Herikles, Taymi, Alexander (blue cap), José, Yordys, Pedro (back), Edel, Abel. Photo: Yordys Lázaro Mederos Batista.