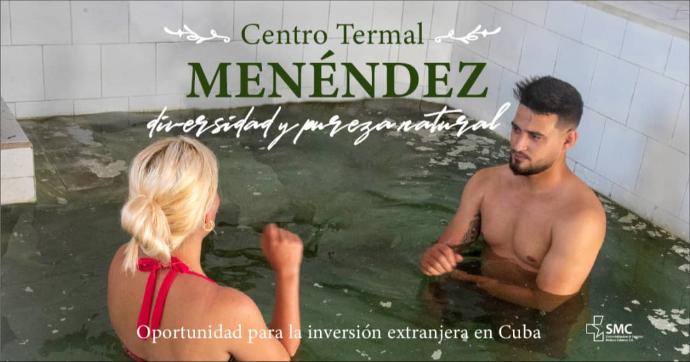 Menéndez Thermal Center
The Menéndez Thermal Center is located in the municipality of Martí in the province of Matanzas, on the northern coast of Cuba, 22 km from the municipal capital by paved road, with access from the international airport of Varadero or from Havana.
It consists of an extension of mainland and keys, with several springs of table, thermal, mineral-medicinal and peloid waters, in a very rudimentary natural state, in limited use with rustic infrastructures.
Menéndez has 33 localized wells and 27 sealed wells, including table, thermal, mineral-medicinal and peloid waters. Its 7 wells of table waters of many types and degrees of mineralization make these waters one of the most valuable in Latin America due to their diversity.
The mineral-medicinal waters, thermal, sodium chloride type with temperatures from 28 degrees to 40 degrees, are also characterized by being sulfurous, radonic, of high mineralization, rich in calcium, iodine, bromine and magnesium. It stands out for the treatment of dermatological, digestive, respiratory and osteomioarticular conditions.
The Menéndez thermal center is 1 km from the beach of the same name, with thick grayish sand and 2 km of mangrove vegetation.
Its proximity to Varadero makes it very promising for the development of tourism. As it limits to the north with the Strait of Florida, it was visited by tourists from the United States who came in their private yachts to receive treatments, which makes it attractive for future opportunities with that market.
In balance with the biodiversity of the Menéndez thermal spa, it allows combining the thermal treatments with other ecological activities such as the observation of the coastal flora and fauna, like flamingos, (because it is also a corridor of migratory birds), hiking, as well as the interest in archeology, because about 500 meters away is the archaeological site Cayo Jorajurí in whose area there are still findings of our aboriginals.
It is ideal for tourism development in close harmony with the environment for the enjoyment of a preserved natural environment.